Close That Crossing!
Last September (2014) San Antonio was able to block the railroad crossing at Hoefgen and Essex by taking emergency measures. Read more at KSAT News.
When researching how to establish a Quiet Zone in our neighborhood, the Federal Railroad Administration indicated this is the same crossing that would need the most attention. Instead of investing in expensive gates and warning systems, it looks like the city has found a cheaper solution by closing the crossing permanently.
Crossing Location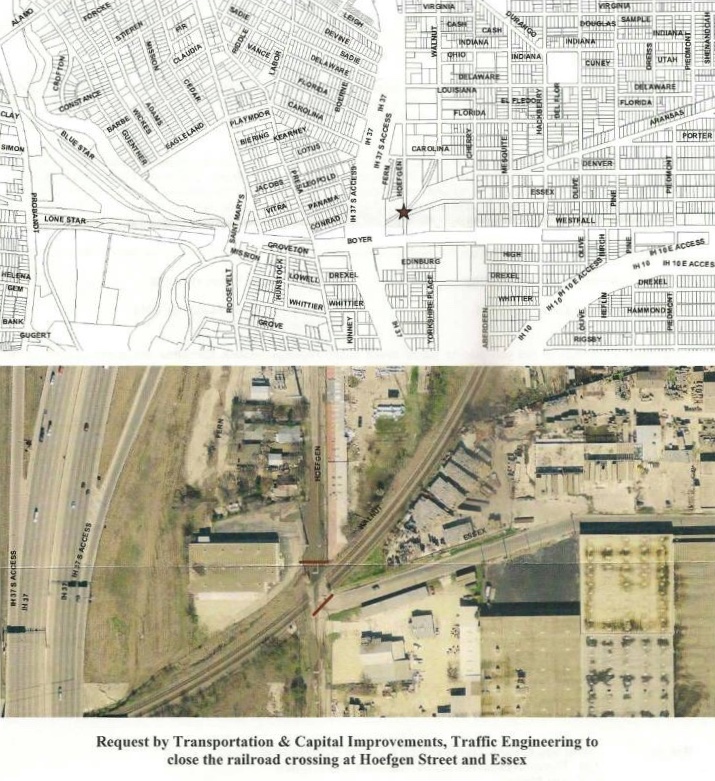 The City Needs our Help
On Wednesday, February 25, 2015 at 2:00pm there is a Public Hearing for the Planning Commission in the Development and Business Services Center, 1901 S. Alamo St.
On Thursday, March 19, 2015 at 9:00am there is a City Council Public Hearing in the Municipal Plaza Building, 114 W. Commerce St.
Please attend these meetings so we can help the city close this crossing and get closer to a Quiet Zone!