Less Train Horns Please
First Step
Our first goal is to make residents of Lavaca, Hoefgen, King William, Downtown, Lone Star, Alamodome Gardens, Dignowity Hill and Denver Heights aware of how a Quiet Zone can be created for their benefit. Gathering their support will help get the process started with the city.
Railroad Crossings
Not Quiet Quiet Quiet Someday Closed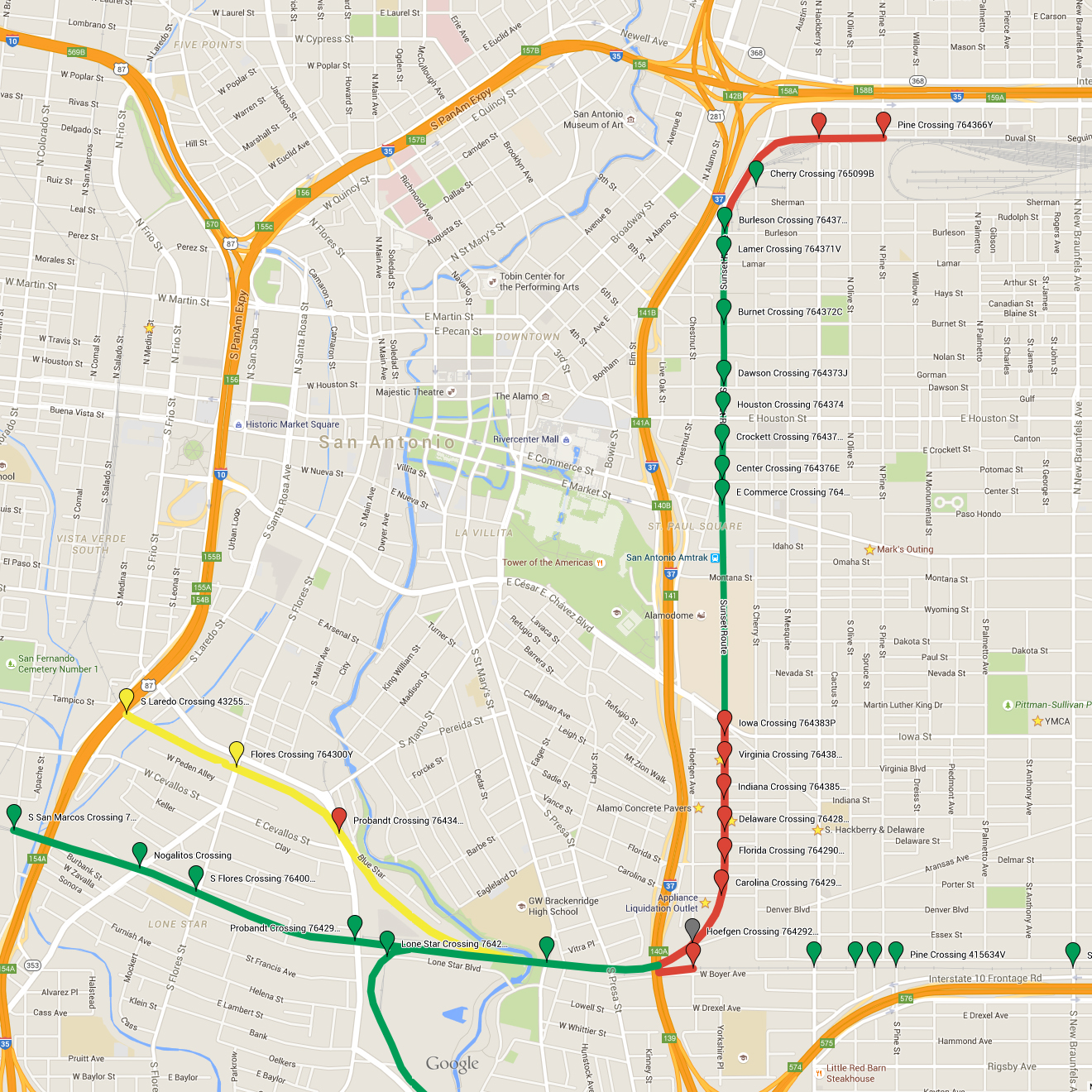 Crossings marked in red are those that are not in a Quiet Zone today. They're in a piece of the city that has been overlooked yet still home of the AlamoDome.
The crossings east of 37 are especially noisy. They do not have much vehicle traffic but engineers must sound their horns when approaching a public grade crossing. With these crossings only a few hundred feet apart, engineers can sound six sets of blasts a few seconds apart. If the engineers followed the Train Horn Rule to the letter, it would be even noisier.
Under the Train Horn Rule (49 CFR Part 222), locomotive engineers must begin to sound train horns at least 15 seconds, and no more than 20 seconds, in advance of all public grade crossings.

...

Train horns must be sounded in a standardized pattern of 2 long, 1 short and 1 long blast. The pattern must be repeated or prolonged until the lead locomotive or lead cab car occupies the grade crossing. The rule does not stipulate the durations of long and short blasts.
We Need a New Quiet Zone
To address train horn noise pollution, the Federal Railroad Administration has provided a provision for localities to setup Quiet Zones.
In a quiet zone, railroads have been directed to cease the routine sounding their horns when approaching public highway-rail grade crossings. Train horns may still be used in emergency situations or to comply with other Federal regulations or railroad operating rules.
Quiet Zones do not guarantee train silence. In the event of an emergency, such as the sight of vehicles, pedestrians or animals on the railroad tracks, Union Pacific engineers are legally obligated to blow the horn in order to warn the obstruction.
Eleven Quiet Zones have been successfully created in San Antonio. It takes time to collect accurate data and implement gates or medians to ensure crossing safety standards but improving our neighborhoods is worth it.
Please take a minute to sign the petition and subscribe to our newsletter.